Pendragon Trail
The Pendragon Trail is located opposite Tree View Lane and Sunset Drive. It has a dedicated parking area across the road from the beginning of the trail, alongside Tree View Lane.
The trail extends along the water's edge out onto Evans' Point, and takes approximately 50 minutes to walk. Near one end of the trail there is a gazebo built over the water with a walkway extending from its edge in to the shore. In this gazebo you will find a pair of mounted binoculars which can be used to observe the various species of birds that have made Northern Arm their home. Some of these species include: Canadian Geese, Ospreys (fish hawk), Bald Eagles, Snipes, Northern Ravens, Warblers, Spotted Sandpipers, Ring Billed Gulls, and many more.
Pease note that this trail is intended for walking ONLY. ATVs, snowmobiles and other recreational vehicles ARE NOT permitted on this trail.
Playground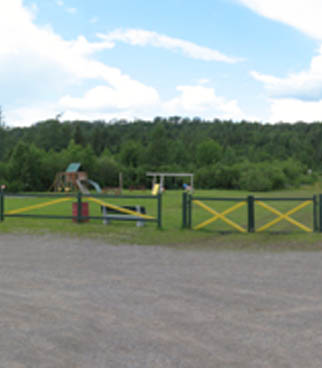 Our playground facility holds a variety of activities for children and adults. Here we have a swing set, monkey bars, a slide, a small basket ball court and see-saws. Also, our playground lies on a large field of grass. This creates an ideal place for a small game of football or soccer.
Placed throughout the playground are picnic tables, making it a great place to have lunch. You can also follow a board walk trail that stretches the entire perimeter of the park.
Annual Events
Quick Access